Cold soup never appealed to me when I lived in the northern reaches of the world. I just didn't get it. Sure, it got hot in the summer, but never for quite long enough to be interested in changing my diet. Soup was supposed to be hot,  I rationalized – enjoyed in the winter.
Today is a different story. I live in Oklahoma, where we spend the entire summer at a low simmer. Case in point: all of July was over 100F, except for 2 days (they dropped to a balmy 97F). To make matters worse, we only got 0.05 inches of rain all month, according to Weather.com. Here we are in August, and the forecast is even grimmer – all this week is going to be near 110F.
In short, the forecast is hot, with a chance of inferno.
Cold soups are practically a necessity in such harsh weather. Plus, they keep utility usage down, which is always good.
Thankfully, as I cook my way around the world, I continually run into beautiful chilled soups. They are a fantastic way to keep cool and fresh and I'd recommend them for any breakfast, lunch or dinner.
Here are my three favorites: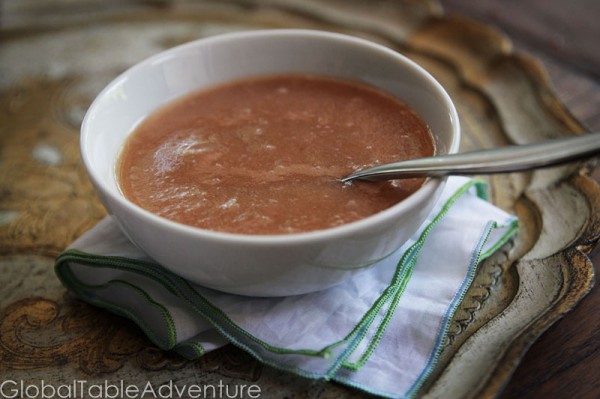 This silky soup is from Iceland and reminds me of tart lemonade and rhubarb – wonderful with a dollop of whipped cream. So, if you freezed a batch of rhubarb from this spring's harvest, you'll be back in balmy weather in no time.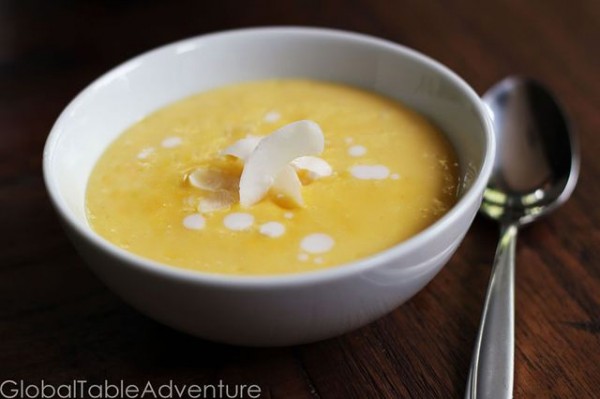 This is your ticket to the Caribbean – except it'll get you there cheaper and quicker than any flight around. The coconut water gives the soup a light and luxurious texture. It's perfect for a fancy brunch.
I never thought I'd love this, but I do. The flavors are rich and hearty, thanks to cinnamon and red wine, but still light and refreshing.